Conveniently located in Lynchburg, Virginia in the Boonsboro Shopping Center, we specialize in first quality hand-knotted rugs. We have a variety of stock that we order from countries such as India, China, and other countries in the Near and the Far East.  We also used to order from Iran. We direct import from overseas so that we can offer you the best prices and the finest rug selection possible. We pride ourselves on personalized service.  If we do not have exactly what you're looking for, we can special order other products or sizes.  Customers are encouraged to try a rug for several days to be certain they are happy with the way it works in their home.
To complement this exquisite inventory, Persian Rugs & More offers cleaning, restoration, and fringe replacement to ensure proper care of your investment in fine Oriental carpets and rugs.
For Oriental rugs and everything you need to care for them, Persian Rugs & More is the place to go.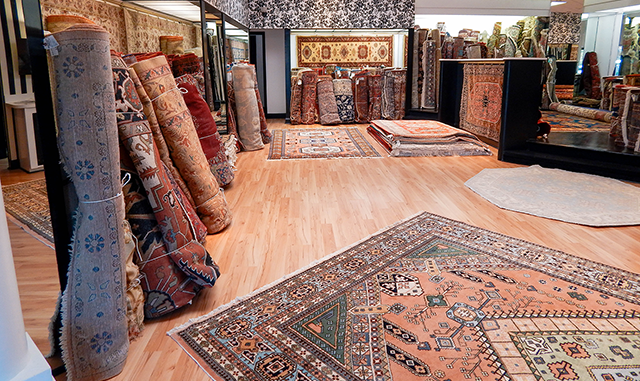 Distinctive Rugs
We offer a wide selection of high quality carpets, including hand woven rugs, needlepoint rugs, dhurries, Kilims and hand tufted rugs. Any type and size can be custom ordered.
Cleaning & Restoration
To compliment this exquisite inventory, Persian Rugs & More offers cleaning, restoration, and refringing to insure proper care of your investment in fine Orientals.  In addition, decorating and appraisal services are available.
Rug Accessories
Persian Rugs & More offers unique gifts from around the world.  Nesting Dolls, treasure boxes and hand crafted items are available.  Come in today to see our wide selection.
Moth Infestation in Central Virginia
The space under your bed, is the best place to attract our little moth friends. They will find their way to that area especially if there is a wool or hand knotted rug, hiding in the dark. see more
Appraisal Services
Do you have a desire to completely understand the origin and value of the rug you own or may have recently acquired? Have you recently had an insurance loss and require an accurate evaluation of the damage?  We offer both in-store and on-site appraisals. All clients are provided with a written copy of our thorough and detailed appraisal.  We offer a very efficient turnaround time, with most appraisals completed in just two to three business days. Fire and water damage emergency recovery is also available.
Dawn and Hossein are longtime residents of the Lynchburg area.  Travels from around the world lead them to love unique and desired rugs from various different countries.   Active in the rug collection community they are constantly bringing new and desirable rugs to their location. They are constantly adding new pieces to their collection.